Book Review: Lord of Misrule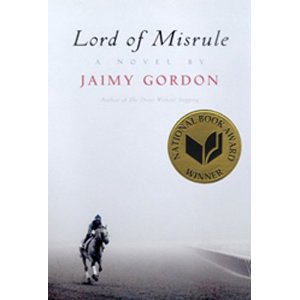 By Jaimy Gordon, Book review by Tim Burns
It's called the 'Sport of Kings' for a reason.  Just like the royal courts of Henry Tudor, the underpinnings of horseracing are a mix of hidden and known.  And the courtiers of the racing world, just like their royal counterparts, are an assortment of poseurs, malcontents, rakes, killers, manipulators and some surprisingly gentle folk.  Jaimy Gordon's 2010 National Book Award winning novel, The Lord of Misrule, is much more than a story about horse racing.
 If you are looking for the neat wrap-up at the end of a come from behind story you are going to be disappointed.  But if you are looking for story filled with characters whose names seem to channel Damon Runyon, characters whose flaws far outweigh their finer points, characters that grab the reader emotionally, then you have found your book. Medicine Ed, Two Tie, Suitcase, Duecy, the frizzly haired girl only later  known as Maggie Koderer, the young fool, her lover, aka, Tommy Hansel, populates the book. They communicate with one another in a patois understood only at the backend of Indian Mound Downs, a race track located in lost and desperate West Virginia.  This is the world of drafty stalls, broke down horses, slickly dangerous trainers, con men, and forgotten dreamers.  And we haven't even mentioned the horses.  Each of the four races feature horses whose personalities are drawn every bit as compelling as their human complement.
 The story flows more or less chronologically with just a few backward glances to fill in the blanks.    Maggie and Tommy arrive at Indian Mound Downs to make some quick cash with some shady deals and a couple of horses who may or may not be ringers. Both Maggie and Tommy are attractive and therefore are viewed with suspicion.  The regulars, headed by the old groom, Medicine Ed have seen the likes of Tommy before, but Maggie with her brand of naiveté and over the top work ethic confuse them.  An air of desperation and doom seem to cover them both like a fog.
Into this world rumbles a horse van from Nebraska bearing the almost legendary 'Lord of Misrule' "… a horse so ungainly, he appears to be like a table with one short leg."  But like almost everything is Gordon's book, nothing is as it seems.  Or maybe it is but it just seems different.
Comments